To see when this site was last updated, please enter the Main Site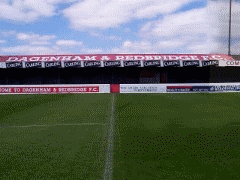 Above is a panoramic view of Dagenham & Redbridge. It takes about 4 minutes to load. If you do not want to see this image the please Enter the Main Site.

If you need to contact me then please e-mail me Steve
---
This opinions within this website are totally our own and those of any contributors and are not the those of the D&R Football Club. TheClub has helped with some information and we thank them for it. The site is not to be taken too seriously, and please double checkQ via an alternative source i.e.Ceefax or local press with regard to fixture dates and KO times.
---